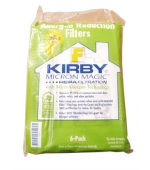 Kirby Allergen Reduction Bags - Style F
Availability: In stock
Fits: Sentria (2009 Onwards), Sentria 2
Description
Genuine Kirby allergen reduction bags.
Style F - Functional Fit bags are for use with the 2009 model Kirby Sentria.This Style F version bag is the same High performance Allergen reduction bag with H11 HEPA filtration but with the functional fit design to retain more particles into the bag. Kirby bags at there very best
Incorporating MicroAllergen Technology and Hepa Filtration. These bags offer the quality that is not found with cheap copies and other vacuum cleaners.
---
AU $46.99 Free Delivery
---